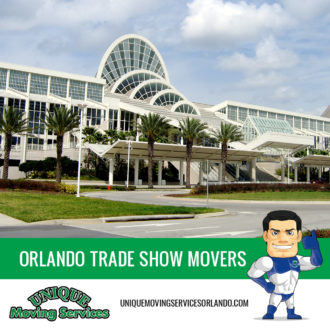 Orlando Moving Companies
Orlando is one of the biggest areas for trade shows due to it's one of kind convention center, international airport and sunny weather. The Orange County Convention center has 7 million square ft of space, making Orlando a top city for trade shows. They have 74 meeting rooms, 232 breakout rooms, and a ballroom that is over 62,182 sq ft. In addition to their abundant parking, they also have a theater, lecture hall, gardens and food courts. Throughout the year, various trade shows are held in Orlando. Here are the top 5 trade shows happening this year in Orlando.
2018 Best 5 Trade Shows in Orlando
1. Aviation Week MRO Americas: April 10-12, 2018
Connect with customers, colleagues and prospects from across the aviation market sector for a 360° networking and learning experience.
2.The International Plastics Showcase: May 7-11, 2018
NPE is the world's leading plastics trade show and conference, which offers a full array innovative solutions and emerging technologies that are shaping the future of plastics.
3. POWER-GEN International: Dec 4-6, 2018
POWER-GEN International is the industry leader in providing comprehensive coverage of trends, technologies and issues facing the power generation sector.
4.International Association of Amusement Parks Attractions: Nov 13-Nov 16, 2018
IAAPA Attractions Expo is the world's largest amusement industry trade association created to serve family fun centers, amusement parks, waterparks, and attractions.
5. Premiere Orlando: June 2-4, 2018
Premiere Orlando  is the largest beauty trade show in USA, where licensed professionals connect with manufacturers and distributors of hair, nail and skincare products. Premiere Orlando has multiple resources for discovering new techniques, new trends and new products.
Orlando Trade Show Moving Companies
At Unique Moving Services Orlando, we understand how much preparation goes into preparing for a trade show. Unique Moving Services Orlando has experience in trade show moving in Orlando and Central Florida for over 15 years. We have done a variety of trade shows due to Orlando being a trade show capital and attracting trade shows from all areas and interests.
Our professionals are familiar with the convention center, and are experts at figuring out the best delivery time for your event. In addition, we are able to provide information on the location and event to make your experience easier.
We offer packing, loading and unloading services for trade shows here in Orlando and Central Florida. Contact us for a free Orlando trade show moving moving quote and inventory listing.
---
Orlando Moving Company
Are you moving to Orlando or the central Florida area? If you are looking for an Orlando moving company, we can help!
Whether you are moving locally within the Orlando area or moving out of state to Florida, Unique Moving Services Orlando can help you pack, load, unload and set up your belongings stress free! Learn more why we are the best moving company in Orlando, please read our orlando moving company reviews.
Contact Unique Moving Services Orlando for a free Orlando movers quote.