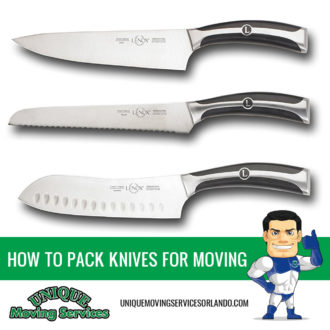 Orlando Moving companies
Moving can bring many unanticipated obstacles. One of the most common challenges occurs in the kitchen, when trying to figure the best way to pack and move knives. The good news is that although packing these sharp items may seem daunting, it's actually very simple. No matter how sharp or how large your knives are, follow these steps for an easy, injury free move.
Gathering Materials
To prepare for packing knives, the first step is getting all your materials together. You will need small boxes (shoe-boxes works perfectly), packing paper, bubble wrap, tape and a marker. You may also want to use towels or old t-shirts, depending on how large/sharp your knives are. If this is the case, rubber bands are needed too.
Preparing Knives and Boxes
The best way to move knives is to sort them depending on the kind and size. Therefore, the first thing you want to do is separate your butter knives and put them in their own pile. Next, make a pile with all your steak and bread knives. You want to create two piles from the steak/bread pile, separating smaller knives from larger knives. Last, make a pile consisting of chef and carving knives. Now it's time to prepare your small boxes or shoe boxes. This is a very important step to prevent an incident. Use bubble wrap and packing paper to cushion all sides of the box. After that, crumble packing paper and place at the bottom of the box.
Packing Knives
The first step is to place a couple of layers of packing paper or towels/shirts on counter. After this, place the knives on your layers while leaving a couple inches in between each knife. Then roll the paper(or cloth) over each knife, ending up with a bundle. If you used packing paper, close the roll with tape. If you used towels or t-shirts, close the roll with rubber bands. Bubble wrap can be placed around the bundle for extra protection. Label each bundle with knives as a reminder to whoever is unpacking to use caution. In addition, label with an arrow which side is the sharp side to prevent injury. If knives are in a cutlery block, you want to leave them there. However, you must secure each knife with tape to prevent them from falling out. Than use wrap the whole block in bubble wrap. Lastly, place items inside the box.
At Unique Moving Services, we understand that packing sharp items such as knives can be a hassle. Unique Moving Services, a small, privately owned company, has been moving clients in the Central Florida area for the last 15 years. Please contact us a free moving evaluation and inventory listing.
---
Orlando Moving Company
Are you moving to Orlando or the central Florida area? If you are looking for an Orlando moving company, we can help!
Whether you are moving locally within the Orlando area or moving out of state to Florida, Unique Moving Services Orlando can help you pack, load, unload and set up your belongings stress free! Learn more why we are the best moving company in Orlando, please read our orlando moving company reviews.
Contact Unique Moving Services Orlando for a free Orlando movers quote.