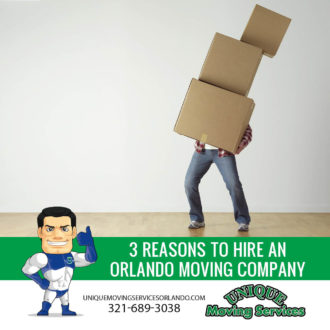 Orlando Moving Companies
If you are looking for local moving help to relocate your home or office, it is important to consider the many variables that come into play when choosing a moving company. Keep reading to learn why hiring a moving company in Orlando is your best bet.
Safety with Orlando Movers
1. For your personal safety
It is vital to be familiarized with safe moving procedures to prevent injuries or accidents when moving. Since heavy lifting affects the whole body, there is risk for muscles strains or sprains, bone fractures, or even back injuries. Orlando movers are knowledgeable in prevention of injuries through the use of safety procedures, such as wearing lifting belts and relying on dollies and carts. Trusting safe movers for this will not only protect you, but your belongings as well, especially when it comes to loading and unloading heavy objects and valuables.
2. To guarantee packing that protects your belongings and saves time
Experienced movers and packers know the appropriate packing materials, labeling procedures and the adequate preparation to move your home or office. By hiring the best moving company in Orlando you save time and energy since your personal possessions are handled by professionals.
3. Inventories to organize yourself
Moving can be stressful. You have to keep track off all the events that are happening simultaneously, so it is easy to forget about that precious item stored in your garage. Avoid the stress of having to remember everything by hiring moving help to take care of inventory listings.
At Unique Moving Services Orlando, we have spent the last 15 years perfecting a stress-free moving process. Contact us now for a free free moving evaluation and inventory listing.
---
Orlando Moving Company
Are you moving to Orlando or the central Florida area? If you are looking for an Orlando moving company, we can help!
Whether you are moving locally within the Orlando area or moving out of state to Florida, Unique Moving Services Orlando can help you pack, load, unload and set up your belongings stress free! Learn more why we are the best moving company in Orlando, please read our orlando moving company reviews.
Contact Unique Moving Services Orlando for a free Orlando movers quote.