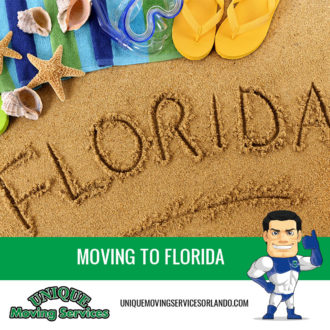 Orlando Moving Companies
Florida, the sunshine state is a popular state to move to. There are many reasons why someone would like to move to Florida, from beaches, to the weather, to the theme parks and more. Roughly 1,000 people to Florida each day from across the nation. Here are some things you need to know before moving to Florida.
Regions
Do research on different regions in Florida because they all have slight differences. The Florida Panhandle is where the state capital, Tallahassee is located and the beaches off the Gulf of Mexico. Northern Florida includes Jacksonville, the largest metropolitan area in this region and the historic St. Augustine, which has many national monuments. Central Florida is known for its tourist city Orlando, which includes many theme parks. Southern Florida includes Miami which is known for its beaches and diversity. Lastly, we have Southwest Florida, which includes Tampa, the area known for sports, museums and theater.
Vehicles
It is required to register your vehicle within 30 days of being employed, placing kids in public school or establish residency in the state. Before this process can occur, it is crucial to get a Florida driver's license and Fl auto insurance. In addition, a VIN inspection and odometer is required. After those steps are completed, visit the Florida DHSMV office with your title, ID and car insurance card to register your out of state vehicles.
Hurricanes
Hurricanes are something Floridians get used to, however it is super important to be prepared incase one comes towards your direction. It is key to read about hurricane safety and pay attention to the weather during hurricane season. Also, having hurricane supplies (water batteries, etc) at home is a good idea. Before picking your house, you may want to find out if it is in a flood zone,
Finding a Reliable Florida Moving Company
We at Unique Moving Services understand that moving to a new state can be very stressful. Unique Moving Services has been moving clients in the Central Florida area for the last 15 years. As a small, privately owned company, we've built relationships with apartment management staff, realtors, and local businesses in Central Florida. Please contact us a free moving evaluation and inventory listing.
---
Orlando Moving Company
Are you moving to Orlando or the central Florida area? If you are looking for an Orlando moving company, we can help!
Whether you are moving locally within the Orlando area or moving out of state to Florida, Unique Moving Services Orlando can help you pack, load, unload and set up your belongings stress free! Learn more why we are the best moving company in Orlando, please read our orlando moving company reviews.
Contact Unique Moving Services Orlando for a free Orlando movers quote.