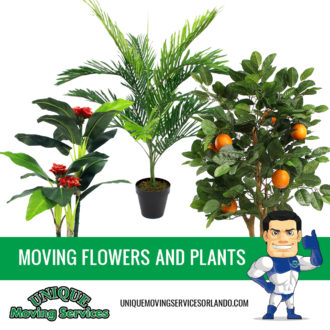 Orlando Moving Companies
Many people are conflicted when moving to a new home. They packed everything in their house and then they remember their beautiful trees, flowers and shrubs. Unique Moving Services understands that gardens take lots of effort, time and money. The good news is that most of the time, you can relocate these plants and flowers. Follow our handy tips for a easy relocation of plants.
Preparation
There is often legislation on moving plants to another state or country, so it is important to check on those laws. You also want to make sure you are able to plant on your new property. A key thing to do is to prepare your planting site before you arrive for quick replanting. Also, water the plants the day before to ensure that the roots and leaves are hydrated, this will also make it easier to dig them out. It is best to dig out in the evening or early morning. Trim your perennials or grasses to encourage regrowth and make the move easier. You want to dig up your plants with lots of soil and place them in paper bags. Steer away from using plastic bags, because they don't allow the plant to breathe. Also, be cautious of ceramic pots because they can break on road, plastic pots or buckets will do. To prevent shifting in the truck, put the pots in boxes with bubble wrap or cushioning.
The Move
Try to avoid moving in the summer because the weather is dry and plants can get distressed. If you have no choice but to move in the summer, avoid the sun and wind as much as possible. It is also crucial to make sure the truck is closed, so no wind damage occurs on the road. The best time to move perennials is early spring or fall and the winter for trees and shrubs. Pack plants last, this way they will be the first thing out of the truck and bring water for the trip, to make sure moisture levels are well. Temperature controlled trucks are a good idea and do not leave them in a closed truck overnight.
Replantion
They are a few key things to insure a successful replantation. First, remove each plant from pot or bag one by one. Place the plant in the soil halfway and then water it. Next, finish pouring the soil and water one last time since water evaporates when planting. Lastly, firm the soil around the plant, so that there is no air pockets. However, you want to be careful to not press too hard. Give it many weeks for plants to adjust. Check moisture levels twice a day since they will need more water than usual.
Unique Moving Services knows that plants make home feel like home and plant moving requires special attention. As a small, privately owned business, we have been moving clients in the Central Florida area for the last 15 years. Please contact us a free moving evaluation and inventory listing.
---
Orlando Moving Company
Are you moving to Orlando or the central Florida area? If you are looking for an Orlando moving company, we can help!
Whether you are moving locally within the Orlando area or moving out of state to Florida, Unique Moving Services Orlando can help you pack, load, unload and set up your belongings stress free! Learn more why we are the best moving company in Orlando, please read our orlando moving company reviews.
Contact Unique Moving Services Orlando for a free Orlando movers quote.