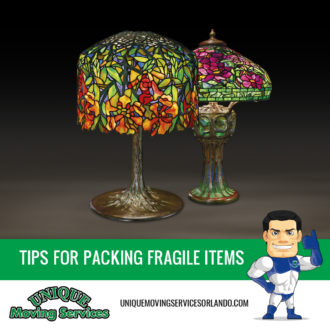 Orlando Moving Company
Moving is always difficult, but one of the most challenging things about moving is to deal with fragile items. Fragile items are hard to pack and require special attention and patience.
Are you moving fragile items in Orlando and struggling to find the proper way to pack them? Unique Moving services Orlando can help! As a small, private owned Orlando based company we have lots of experience in moving fragile items and protecting them from any shocks, bumps or vibrations they may encounter on the move. We value making sure that your delicate items stay in one piece. Follow our simple tips for a safe, risk free move.
1. Pick The Right Box Size
Many people believe that all their boxes for moving should be one uniform size. However, this is a common misconception. In order to insure safety of your fragile items throughout the move, get different size boxes. Smaller boxes with less fragile items is key to a safe transition. It is vital for the safety of valuables to not over-pack these boxes. After all, items that are irreplaceable should have their own box. Lastly, don't forget to label these boxes with "fragile" on at least two sides, so that they are loaded properly.
2. Use "Peanuts"
"Peanuts" are loose-fill foam material that are super helpful in guaranteeing a safe move, when packing delicates. They offer better protection and cushioning than newspapers and fabrics. This is because they take up all the in-between space in a box, essentially filling in any and every void present after inserting your delicate item. In addition, they are shaped in a unique way, that when compressed each peanut interlocks together.
 3.  Be Cautious Of Common Packing Materials
Use bubble wrap and newspaper very carefully because results can be disastrous. Heavy items wrapped in bubble wrap will pop the bubbles overtime. Therefore, if you have a long move, you may want to steer clear of bubble wrap to insure that your valuables won't just be wrapped in plastic with no bubbles. Also certain newspaper ink can stain your items, so be cautious when using newspaper. You don't want your light colored items to be stained with newspaper text.
After following these key 3 easy tips, your valuables should make it to your destination safely, intact and in the original condition.
Proper packing of fragile items, protects both items and movers. If you need help moving a fragile items, please contact us for a free quote. Unique Moving Services Orlando has over 15 years of experience in making sure your fragile items make it safe in the Central Florida area.
---
Orlando Moving Company
Are you moving to Orlando or the central Florida area? If you are looking for an Orlando moving company, we can help!
Whether you are moving locally within the Orlando area or moving out of state to Florida, Unique Moving Services Orlando can help you pack, load, unload and set up your belongings stress free! Learn more why we are the best moving company in Orlando, please read our orlando moving company reviews.
Contact Unique Moving Services Orlando for a free Orlando movers quote.
Request a Free Quote CALL US: 321-689-3038