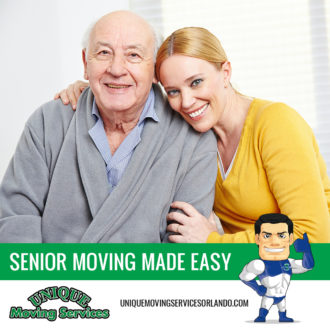 Orlando Moving Company
If you or a loved one, needs to move from a long time family home into an assisted living facility or a smaller apartment, you need to work with movers that you trust. That way they can give you the peace of mind you need during this lifetime transition.
Downsizing can bring physical and emotional stress. Since most senior management firms charge around $125 per hour and rarely do the actual moving, having an Orlando moving company that cares will help you have a stress free move and save money.
Below are 3 tips to get ready for this emotional lifetime transition:
1. Have a plan & start early:
It can be difficult to determine when a loved one needs to transition to an assisted living facility or a smaller apartment. Family should be alert to the first signs of declining health. You should never wait until your loved one is too sick to take care of himself/herself or for tragedy to strike. Since an emergency moving is never easy, you should start planning at the first signs of trouble. You don't want to be caught off guard. Keep in mind that experts recommended having a moving plan at least one month before the current home is listed for sale.
2. Involve your family:
During this emotional transition, family can be a great emotional support for your loved one and for yourself. Having family around can reassure the senior transitioning, that everything will be fine and that he/she is not alone.
3. Listen & evaluate:
One of the biggest issues during downsizing is getting rid of physical possessions that your loved one is emotionally attached to. Even though you will be making some difficult decisions, it is crucial that you listen to your loved one's requests. Having things that are important for him/her nearby, will make the transition & adaptation of the new place easier for him/her. Seniors need to feel at home when they move, and having the things they love with them will ease the difficult transition.
Unique Moving Services understands the challenges of Orlando senior movers. Whether you are moving your loved one into a new home, long-term care or an assisted living facility, our experienced professionals will make sure your belongings are treated with care & respect.
We will work with you to create a stress free moving experience that will suit the needs of your senior loved one.
If you have questions about senior moving in Orlando or Central Florida, please contact us. We provide free evaluations and inventory listings of the items to be moved, followed by a written estimate of our charges with no hidden fees, and no unexpected add-ons.
Senior moving can be an overwhelming experience, with our moving knowledge we can help you make this a smooth and successful this life transition for you and your loved one.
---
Orlando Moving Company
Are you moving to Orlando or the central Florida area? If you are looking for an Orlando moving company, we can help!
Whether you are moving locally within the Orlando area or moving out of state to Florida, Unique Moving Services Orlando can help you pack, load, unload and set up your belongings stress free! Learn more why we are the best moving company in Orlando, please read our orlando moving company reviews.
Contact Unique Moving Services Orlando for a free Orlando movers quote.