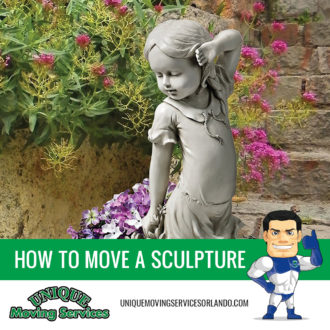 Orlando Moving Companies
Moving sculptures can be a difficult task when moving. Sculptures can be large, heavy and are uniquely shaped. However, at Unique movers Orlando we understand how important sculptures are to their owner. They make your home one of a kind, can be big investments and hold high value, so we work to meet all your needs when moving a sculpture. As a small, private owned Orlando based company we have lots of experience in moving valuable, one of a kind items. After all, any damage could ruin the value the item holds. Here are some key things to consider when moving sculptures.
1. Use Individual Wooden Crates Instead of Cardboard Boxes
Wooden crates are a great substitute to cardboard boxes, especially when thinking about sculptures. There are many reasons why you may want to consider wooden crates. The most important reason being that they are strong and sturdy, which makes moving heavy sculptures easier and will prevent any banging or friction from ruining your sculpture. When an item has a sharp end, lots of times it can rip a cardboard box, but this isn't the case with wooden crates. You can also get custom sized wood crates perfect for you sculpture. These crates are also reusable, which can come in handy if you ever need to transport it again. Lastly, they are weather resistant, meaning that they will protect against rain, humid and more.
2. Protect Your Sculpture
Although, a wooden crate protects your item super well, it is still vital to use package material as extra precaution. Foam padding is a great resource to use when packing sculptures. Since sculptures have unique shapes, it is important to use foam padding in each crevice on the sculpture. After this step, using lots of bubble wrap is key. Never put more than one sculpture in a crate, this way scratching will be preventable. Be aware that if you can dismember a sculpture, it may be best to give each part it's own crate to prevent scratching. Fill dead space in box with packing peanuts, loose-fill foam material for protection. These peanuts are shaped uniquely, that when compressed they interlock together, filling any and every void present.
3. Think In Advance
After a long move, the last thing you want is the wooden crate not fitting in door frames. This is something many people overlook, but this is completely preventable. Ensure ahead of time, if the sculpture will fit through doors. You need to know the measurement of the sculpture and of it once package to determine if this will be a problem. Advancing planning will prevent a surprise that could make your move harder than it needs to be.  
If you consider these 3 key principles, your sculptures should make it to your destination without any damage and in one piece.
If you need help moving a sculpture, please contact us for a free quote. Unique Moving Services Orlando has over 15 years of experience in making sure your fragile items make it safe in the Central Florida area
---
Orlando Moving Company
Are you moving to Orlando or the central Florida area? If you are looking for an Orlando moving company, we can help!
Whether you are moving locally within the Orlando area or moving out of state to Florida, Unique Moving Services Orlando can help you pack, load, unload and set up your belongings stress free! Learn more why we are the best moving company in Orlando, please read our orlando moving company reviews.
Contact Unique Moving Services Orlando for a free Orlando movers quote.